Backup Generators in Katy, TX
Empower Your Home With Our Houston Generator Installation Services
Houston has a very unpredictable climate, and you could be left in the dark in less than a moment's notice. Protect yourself, your family, your property, and your business by installing a backup generator. Our West Houston electricians can get one up and running for you.
---
Call (832) 925-4669 or contact us online to receive your free estimate for generator installation in Katy, West Houston, or the surrounding areas today!
---
5 Signs You Need Generator Replacement
1. You're not getting the amount of power you need - If you find that you often don't have all the power your residence needs, then you can't really fix that problem. You need a generator with a greater electric capacity and should consult our Houston generator installation experts about a new unit.
2. Fluctuations in the amount of power you get - If your generator is on its last legs you might see flickering lights or other instances of power volatility that indicates you may need new generator installation.
3. It takes a while to start - If you find that your generator is starting slow or failing the first time and needing to restart often then call in our Houston generator installation experts.
4. Repair after repair - If you're finding that your generator needs repairs time and time again, it might be cheaper to replace the unit outright because the new unit won't need as many repairs and replacement is on the horizon.
5. Your generator is old and used frequently - Exactly how long a generator lasts depends on use, environment and maintenance levels. Usually they can provide power for 10,000-30,000 hours so if you only use it a couple of times per year it can last a while, but if you use it all the time make sure it's properly maintained.
A Backup Generator Is the Answer
A viable and affordable option for protecting your home or business from power outages is to install a backup generator. Backup generators are different than portable generators.
Portable generators typically run on gasoline or diesel and can be moved to different locations. A standard backup generator in installed directly to your residence, like an air conditioning unit, and runs on liquid propane or natural gas.
The backup generator is wired directly into the electrical panel, where it can detect if the power supply to the home has been interrupted. In such a case, the backup generator will turn on within minutes, restoring power to certain circuits in the building, or in some cases, the entire property. Your West Houston electricians can help you to determine what options are best for you.
How Much Power will a Backup Generator Produce?
A backup generator is a smart investment to keep your family, home or business safe. They also come in different capacities to suit the size of your home or business.
The different sizes of backup generators are:
5,000 to 8,500 watts to power the bare necessities such as refrigerators, a heating system, lights, and a sump pump
10,000 to 15,000 watts which can also power electric ranges, central air, washers, dryers, and water heaters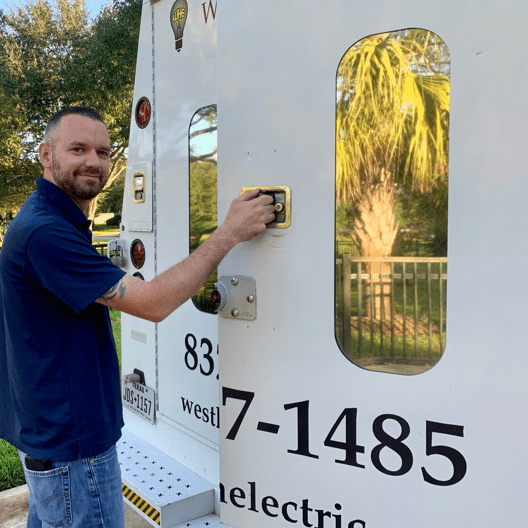 Backup Generator Maintenance
Backup generators need care just like the motor in your car. If you have run your generator for more than 48 hours, you should give your West Houston electrical services a call to come out and service it for you.
A Light in the Dark
Just because there is a storm blowing, don't go without power! Have West Houston Electric install a backup generator in your home so you will never be in the dark. Our electricians are experienced, bonded, licensed, and insured. We also offer a Workmanship Guarantee on all labor.
---
Power outages can be so unpredictable. Rest assured knowing that your family and property are safe. Call our team for a free estimate on a home generator in Houston today!
---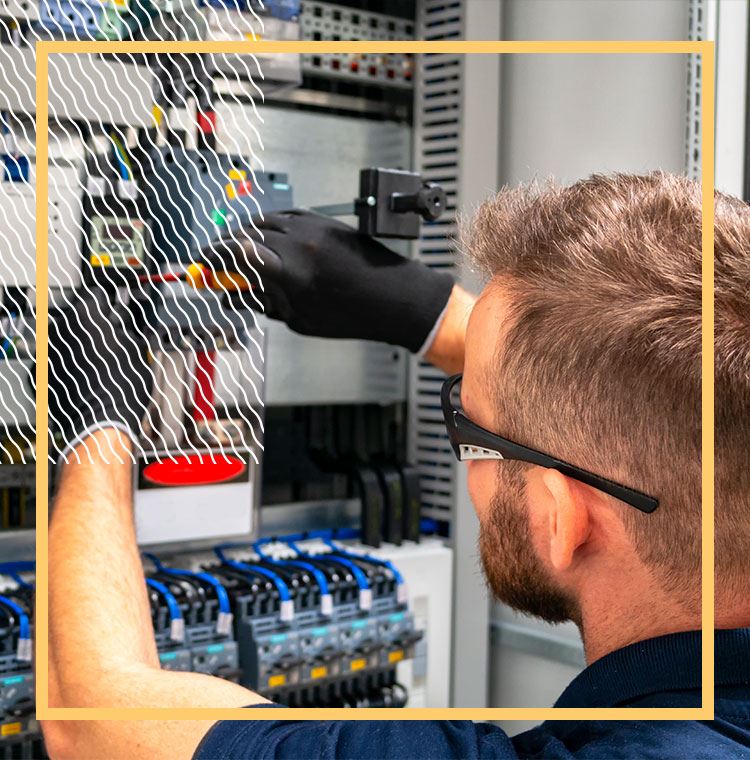 Make the Brighter Choice Let Us Take Charge
Over 30 years of Continuous Training

Convenient Specials and 0% Financing Available

Clean & Courteous Technicians Who Respect Your Home

Background Checked, Licensed & Insured

Free Estimates & Fair, Straightforward Pricing