Backup Generators in Katy, TX
Don't Be Left in the Dark
Houston has a very unpredictable climate, and you could be left in the dark in less than a moment's notice. Protect yourself, your family, your property, and your business by installing a backup generator. Our West Houston electricians can get one up and running for you.
Call West Houston Electric at (832) 925-4669 today to discuss generator installation in Katy.
A Backup Generator Is the Answer
A viable and affordable option for protecting your home or business from power outages is to install a backup generator. Backup generators are different than portable generators.
Portable generators typically run on gasoline or diesel and can be moved to different locations. A standard backup generator in installed directly to your residence, like an air conditioning unit, and runs on liquid propane or natural gas. The backup generator is wired directly into the electrical panel, where it can detect if the power supply to the home has been interrupted. In such a case, the backup generator will turn on within minutes, restoring power to certain circuits in the building, or in some cases, the entire property. Your West Houston electricians can help you to determine what options are best for you.
How Much Power will a Backup Generator Produce?
A backup generator is a smart investment to keep your family, home or business safe. They also come in different capacities to suit the size of your home or business.
The different sizes of backup generators are:
5,000 to 8,500 watts to power the bare necessities such as refrigerators, a heating system, lights, and a sump pump
10,000 to 15,000 watts which can also power electric ranges, central air, washers, dryers, and water heaters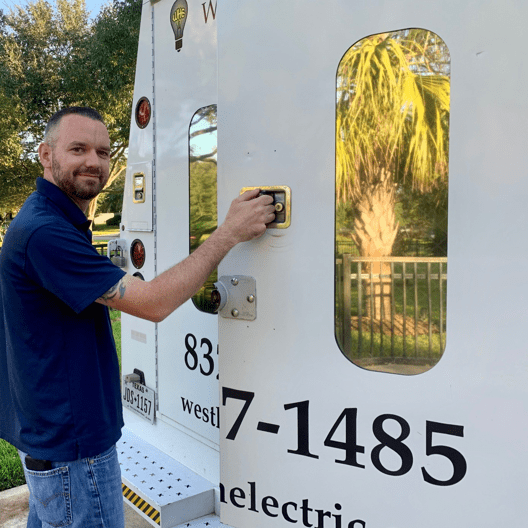 Backup Generator Maintenance
Backup generators need care just like the motor in your car. If you have run your generator for more than 48 hours, you should give your West Houston electrical services a call to come out and service it for you.
A Light in the Dark
Just because there is a storm blowing, don't go without power! Have West Houston Electric install a backup generator in your home so you will never be in the dark. Our electricians are experienced, bonded, licensed, and insured. We also offer a Workmanship Guarantee on all labor.
Power outages can be so unpredictable. Rest assured knowing that your family and property are safe. Call our team for a free estimate on a home generator in Houston today!
Make the Brighter Choice
Let Us Take Charge
Established in 1991 Plus Continuous Training

Fast Response Times

Convenient Specials and 0% Financing Available

Clean & Courteous Technicians Who Respect Your Home

Background Checked, Licensed & Insured

Free Estimates & Fair, Straightforward Pricing
Highly Regarded
Shockingly Good At What We Do
2019 Best Electrician Award

West Houston Electric was proud to receive the 2019 Best Electrician Award.

2019 Angie's List Super Service Award

BBB Accredited Business

2018 Angie's List Super Service Award

West Houston Electric was proud to receive the 2018 Super Service Award from Angie's List.

1993 Electrical Contractor of the Year

Electrical Contractor of the Year in 1993, for wiring President George H. W. and First Lady Barbara Bush's Houston home. West Houston Electric has been the electrician of choice for The U.S. Secret Service detail of the Bush family in Houston since 1993.
Our Customers Love Us
Hear Their Stories
- MacNabb's

- Jonathan Gulick

- C Murphy

- Javier

- Would highly recommend West Houston Electric
Shocking Specials
Helping You Save
5% Off

Veterans & Military

West Houston Electric offers a 5% discount for veterans & active military. Call for details.

Valid from Aug 22, 2019 - Dec 31, 2020